Tube bulking the 22xx gun how to...

Copied from the Crosman Forum March 19 2005
I will start with tube bulk for this part and do tank bulking at a later date. Before you start decide how much you wish to spend on the project, how you want it to look and find out what parts are available for you to use. Some links to help you on your way.
http://www.bryanandac.com/new_page_5.htm

http://www.crookedbarn.com/repairs,_parts,_acces_.htm

http://www.mac1airgun.com/bulk.htm

http://www.thepaintballstore.com/quick.html

http://www.quackenbushairguns.com

And a bunch of links in case you were not yet confused enough:

http://www.airguns.net/links.html

A tube bulk offers an inexpensive way to bulk and lets you keep the weight down as well as maintain much the guns original look. The number of shots you will get depends on the tube 2240,2250,2260 you use as well as the tune of your gun. You will still need a tank to fill the gun. Here are some pics of different tube bulk options and portable tanks above to fill from. Right pic is the DAQ screw in bulk adapter next is the 2240 tube. All others are paintball tanks that can be used to fill your gun or directly connected to your gun.

Several of the links below sell the same style adapters that can be used with any length tube. It can be purchased in models with one or two pieces. The first group is a direct replacement for your tube cap and simply screws in. The second group is a two piece adapter. Once again the first piece replaces the tube cap. The other screws on to the front of the valve and has an o-ring to seal the tube just in front of the front most grip frame screw. Advantages of the one piece type bulk units are no permanent mods to your gun, normally many more shots per fill and simple installation. Disadvantages weight increase and appearance can be a factor also. Advantages of the two piece type, no permanent mods to your gun, light weight and little change to the appearance of your gun. Disadvantage of the two piece tube bulking is lower shot count than with an external tank. Most bulk mods can be used with air or nitrogen for cold weather shooting to a max 1500psi. Although shot count will suffer greatly.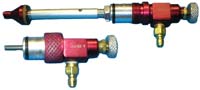 MaxZBulk Link
http://www.quackenbushairguns.com

And others have these bulk adapters
The two piece adapters require the complete teardown of your gun as the front part of the valve must be replaced. Please refer to the Crosman Forum Tech section for more information on this procedure. More good information for this procedure can be had on Eddie's sight as well as a few more good links to have.
http://www.eddiecolwell.tzo.com/2240.html